Santa Barbara Is A Popular Tourist Destination
Santa Barbara, a popular tourist destination in California, is often referred to as the The American Riviera® because of its moderate Mediterranean climate. It's located on the California coast in the central part of the state and has southern-facing beaches. The city sits at the edge of the Pacific Ocean and is bordered to the north by the Santa Ynez mountains creating a dramatic coastline bordered by a beautiful mountain range.
This coastal city offers a smorgasbord of delights. Tree lined streets and paseos, numerous local wineries and breweries, more than 400 restaurants, intriguing shops, botanical gardens and museums, surfing, kayaking, fishing, spas and so much more.
Neighboring cities of Montecito, Goleta, Carpinteria and the towns of the Santa Ynez Valley extend the possibilities of a visit filled with interesting and fun activities.
---
With The Pacific Ocean Right In Town
There Are Many Beaches To Choose From ~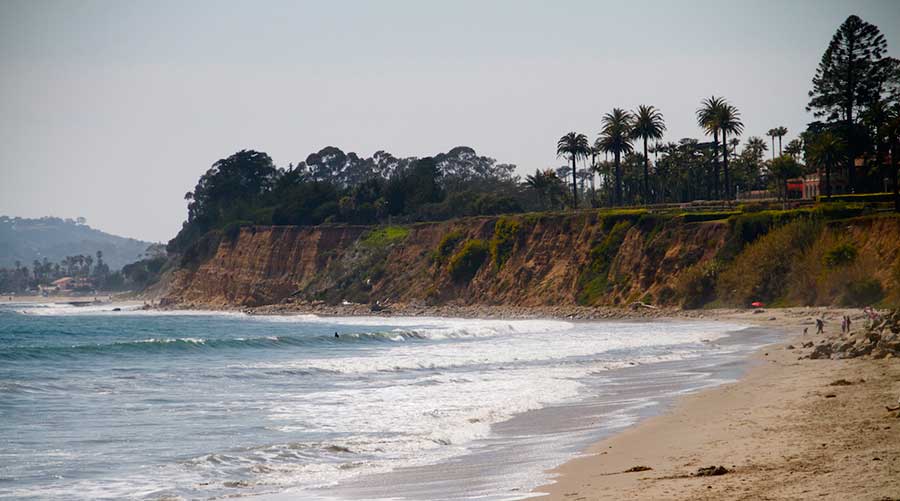 Santa Barbara has miles of beaches!   East Beach is famous for its many volleyball courts. Butterfly Beach is tranquil and usually hidden from visitors (dogs allowed on leash).  Arroyo Burro Beach is a bit off the beaten path, but well worth the trip (dogs allowed off leash). Other beaches range from quiet and contemplative to quintessential California with surfing and socializing.
---
And Plenty of Other Outdoor Activities
Santa Barbara Is A Great Biking Town ~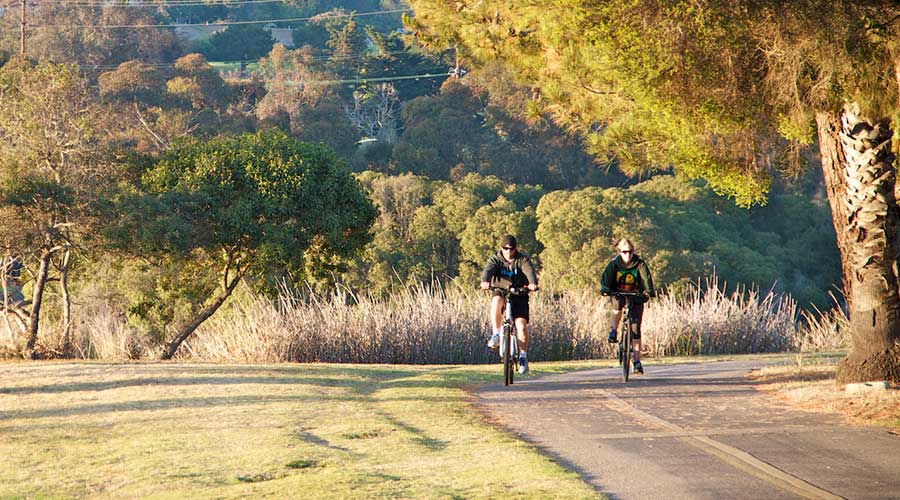 Santa Barbara is very bike friendly with an extensive network of bike lanes and paths. Bikes can also be delivered directly to the RV Park from Santa Barbara Bikes to Go.
And There Are Lots of Places To Go Hiking ~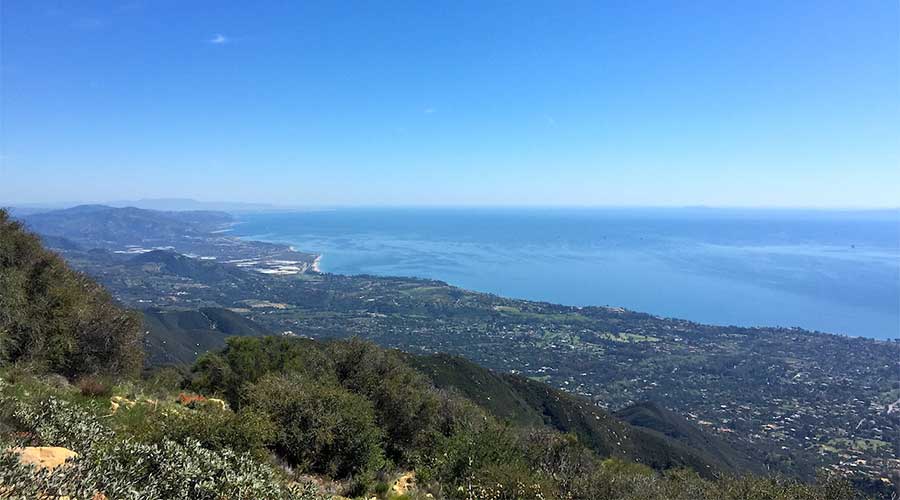 There are miles and miles of hiking trails near Santa Barbara, most just minutes away. They range from short and easy to long and strenuous. Natural springs, waterfalls and ocean vistas abound. Make sure you do your homework to investigate the difficulty of any trail. One good place to get started is Santa Barbara Hikes.
Or If You Enjoy Water Sports ~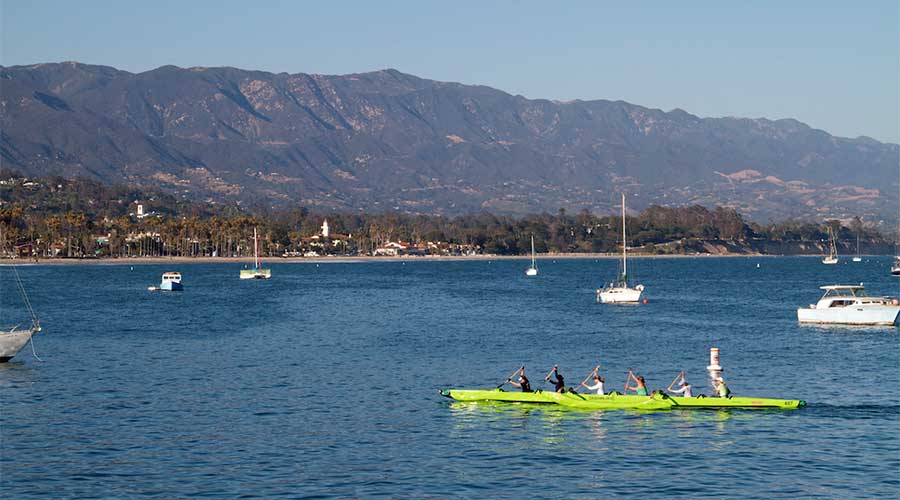 You can rent or charter just about anything that floats in Santa Barbara: kayaks, surf boards, stand up paddle boards (SUP), fishing gear, whale watching and Channel Island tours. Here are some places to check out.
Santa Barbara Sailing Center
Sailing, kayaks, SUPs, whale watching, sunset cruises
Sea Landing
Fishing, kayaks, jet skis, scuba diving, whale watching
Santa Barbara Surf School
Surf Boards, Wetsuits, Leashes and Instructor. Group discounts available.
Play Tennis ~
Santa Barbara Municipal Tennis Courts are just 3 blocks from the RV park. There is almost always a court available and you never know who you might run into!
Map (just 3 blocks from the RV park)
Convenient & Fun Shopping ~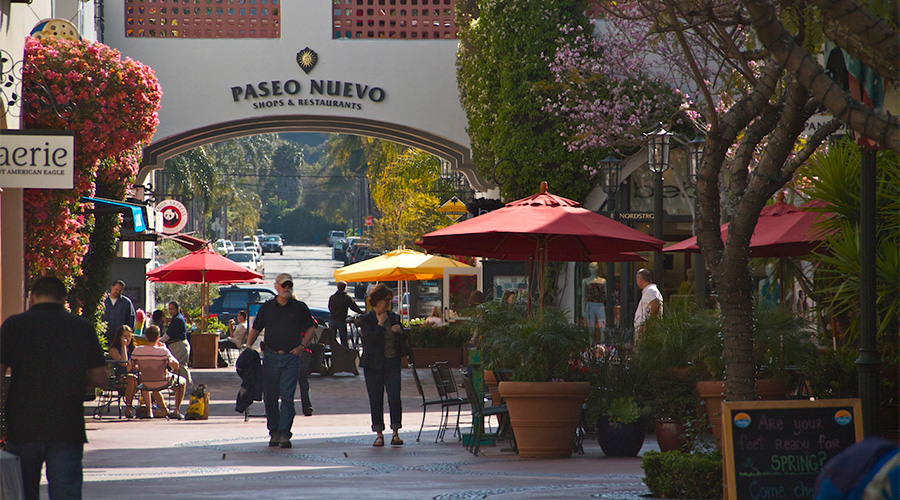 If you want to shop in Santa Barbara you are guaranteed to find something for everyone! Clothes, antiques, fine art, jewelry, home & garden, rare books, and curios of all kinds. State Street and environs include Paseo Nuevo, la Arcada, Arlington Plaza, the Funk Zone and more.
Montecito has Upper Village and Lower Village shops that will entice even the most selective shopper.
Fine Dining & Easy Fare ~
An epicurean's delight! From steak to seafood to vegan, from fine dining to taquerias, Santa Barbara has over 400 restaurants to choose from. You might want to stay an extra day or two just to feast on more of our delectable fare.
Vineyards To Visit, Wineries & Wine Tasting ~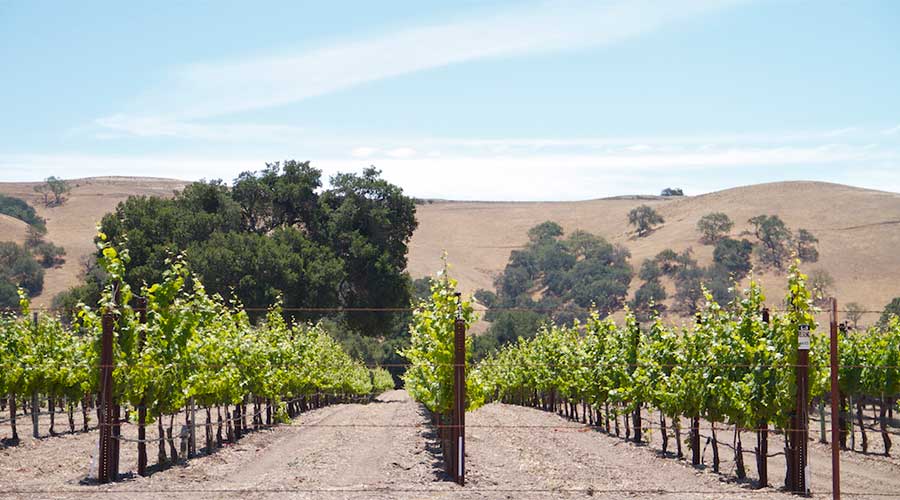 Wine and Santa Barbara go hand in hand…or should we say glass in hand? Our unique climate lends itself to some of the world's finest wines. And with over 140 wineries in Santa Barbara County, you're going to have some fine tasting. You can join one of the many fine wine tours or venture out on your own.
Santa Barbara Wine Tour & Santa Ynez Wine Tour
805.686.8347
Will pick up from the park.
Urban Wine Trail
Explore as many wineries as you want…all on your own!
Cultural & Historical Sites ~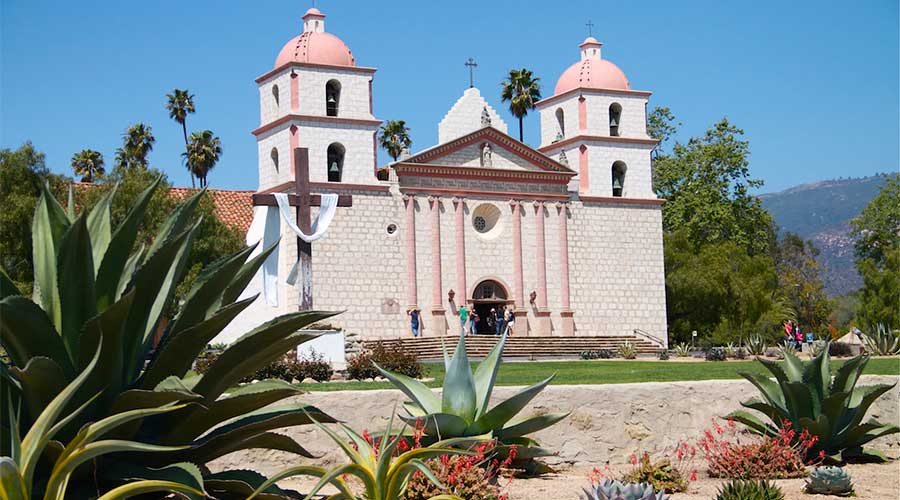 Santa Barbara's rich historical and cultural presence is world renowned. Over 20 sites right in the City of Santa Barbara are listed in the National Register of Historic Places: the Santa Barbara Courthouse, the Presidio, Mission Santa Barbara, the Santa Barbara Museum of Art, and the Botanic Garden are just a few of the spectacles here in our city.